Sinnreich Wendland – The Hotel
Consisting of the main house with spacious catering area with bar and lounge. Here you have three group rooms in three different sizes at your disposal. You live comfortably in four double and four single rooms. The guest house is right next door with a total of 13 rooms, six of which are doubles and seven singles. Here you will also find a small lounge with a view of the sunny courtyard to linger.
When the weather is nice, the outdoor area surrounded by lime trees and the terrace between the main house and the guest house invites you to relax and enjoy.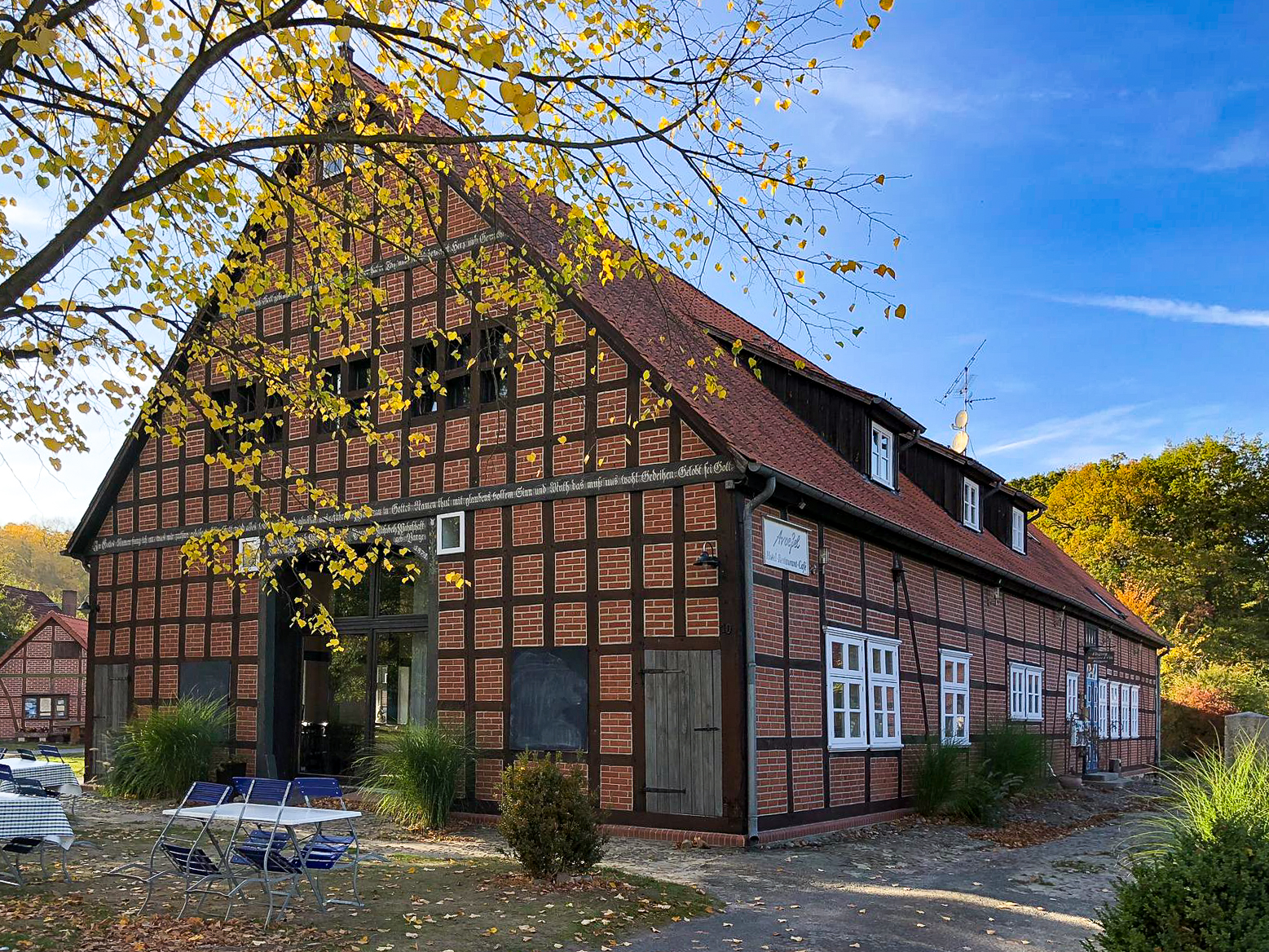 Our 21 double and single rooms are comfortably furnished to match the historical setting. We live the motto that our guests should feel at home with friends. They do not simply travel to an anonymous hotel. All rooms are equipped with shower, W-LAN as well as satellite TV and are comfortably furnished to match the historical ambience. We live here ourselves with our family and want you to feel as comfortable as we do.
Outside of time and space…
…in the listed historical half-timbered mansion in the heart of the nature and culture region Wendland/Elbtalaue.
The Wendland is a burning glass, right in the heart of Germany. At the former inner-German border, in the four-country corner, farmers who have lived here for generations meet people who have left conventional ways of life. People from the anti-nuclear movement, artists, artisans, people who want to create meeting places for diversity.
The Rundlingsdorf Lübeln, which is on its way to becoming a UNESCO cultural heritage site, is the heart of the Wendland region. In the listed half-timbered mansion, we meet on the lowest common denominator: humanity. Simple. Noble. Genuine.
All this in the midst of the foothills of the Elbe Valley meadows in Old Mark Brandenburg. Where wolf and deer meet between oaks and pines. Where raccoons and storks settle.
The Rundlingsdorf Lübeln is one of the best preserved in the Wendland. The typical, worldwide unique hall houses are aligned with their large, today often glazed barn doors, the "Groot Dör", to the large village square, whose center is the village oak. The two half-timbered houses that are now home to Sinnreich Wendland were built in 1874 and 1880 and were lovingly completely renovated and modernized in the early 1990s while maintaining their historic charm.
From 1990 to 2022, the property was known as Hotel-Restaurant "Avoeßel". Avoeßel comes from the language of the Wends, the Slavic tribe that settled here in the 8th century and shaped the region with their unusual way of settling as well as their language, customs and traditions.
Since May 2022, the former Avoeßel has borne the name "Sinnreich Wendland" and welcomes all people who want to relax body, mind and soul in an original setting and experience history, nature and enjoyment.